Having an enviable body is not impossible, with the right exercise workout routine you can build that body you have always wished to have.
That is why we have collected a list of the 6 Most Effective Exercises To Get Larger Hips Very Fast.
That's not to say perfectly curve hips are all you need, but they are a starting point, you can also read our article on exercises to achieve bigger glutes without doing annoying squats.
1. The Bridge
The bridge AKA the hip lift will not only burn all the fat in the abdomen, but it will make your buttocks and hips get bigger.
2. Adductor exercise with ball
To work your adductor muscles, lie on your left side on a yoga mat. Use your left arm to brace yourself as seen in the image and place your right hand on the floor right in front of you.
Place the yoga ball between your legs, keep your hips on the ground and lift the ball with your legs.
The yoga ball will increase the weight of the legs by making the hips and legs to develop muscle and look better.
3. Lateral leg Lift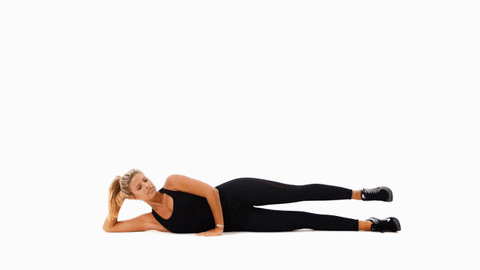 To build very well shaped hips the Kardashian style we must work the legs intensely, and this type of exercise workout routine would definitely bring results in a very short time.
4. Plank with knees
The planks are the best exercises to not only have a burn belly fat and flat tummy but also to build bigger butt and hips that are spectacular.
5. Dog posture
You can merge the planks with the dog's posture and do several reps, this will definitely work the hips and make you build enviable hips.
6. Squats
We definitely can not forget the incredible squats, an exercise workout routine that will build for you those super curvy hips.
Try out these exercise workout routines, do them up to 3 or 4 times every week. If you have any questions, please drop them in the comment section below.
Kindly share or pin to your board too if you find this very helpful.